A CN bulkhead flatcar blocks the main road while trucks are patiently waiting.
I worked on the road tonight, using a mix of Mindheim and Gravett's technic to make the road. So far, results outdid my expectations. Still lot of weathering to do and also to glue in place the road.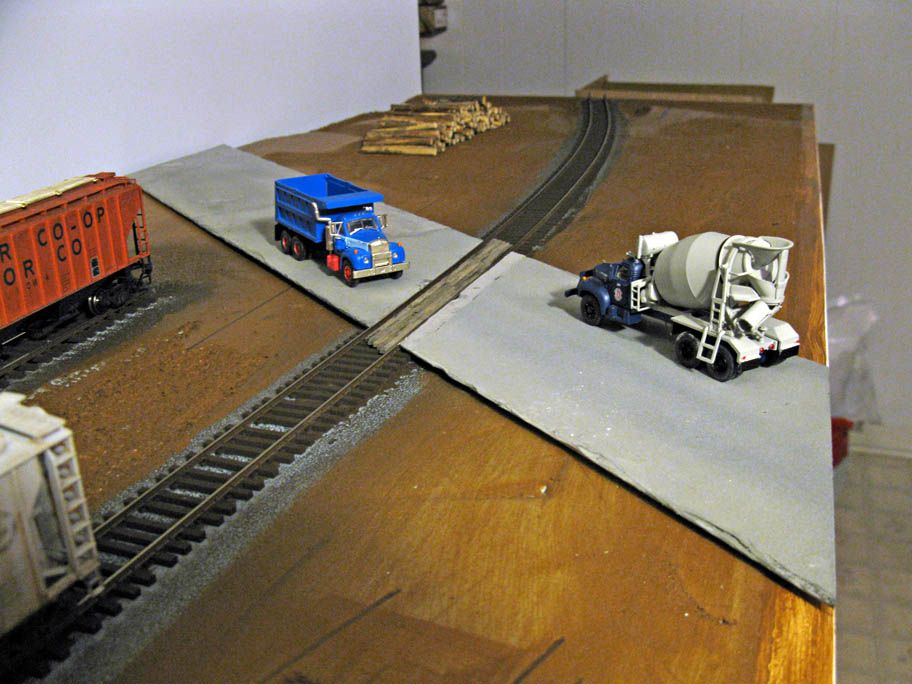 The road itself is made with illustration board and painted with Krylon Camouflage beige and Krylon gray primer. Using an X-Acto blade, I scribbed cracks and also removed layers of cardboard to represent peeling asphalt and potholes.
Distressed the side of the road is a good way to enhance realism.
I distressed the road mainly where trucks will quit the main street to go to the feedmill or team track. I used real life pictures of grade crossing to figure out the typical wear between a road and rails.
The road was particularly distressed were vehicles wheels hit the track.
I only had bits of cardboard, none big enough to cover the entire space in one piece. I didn't care and glued many pieces together with carpenter glue. When dry, I scribbed the joint to make it looks as if each piece was an asphalt patch.
After taking the pictures, I used gloss enamel topped with talc powder to better represent recent asphalt patch on the street. I think Gordon Gravett's technic is fine for some type of road, especially dirty one. But I understand why he said it was often better to only paint tarmac with flat paint. Next step is to paint road lines with my dreaded airbrush.