As many of you know, working on the club layout may be frustrating at some point because it takes a long time to get to some satisfying point. Gaining impetus may be very hard because lots of preparation work is involved. Honestly, I'm really interested in doing scenery. It's been two decades I'm seriously involved in the hobby and never got to a point were I felt I really created some credible word.
For this reason, I started building a small switching layout. Last summer I built 3 modules on hollow core doors. Never laid track on them, but store them in the basement for future use, if the bug would bite me again... I really came handy this week end.
The design was quite straightforward. Instead of wasting time working at my computer, I took flex track and a couple of Peco code 83 #8 turnouts (I just love those long realistic turnouts!) and played with them until I found a satisfying track arrangement. It took about 5 minutes! I added a few buildings, mainly my old scratchbuilt feedmill built when I was a teenager in the late 1990s. Everything looked balanced, believeable and realistic. I felt I was along some track in Southern Quebec, probably somewhere on good ol' Quebec Central in Beauce.
I also decided to definitely apply the proverbial "less is more" approach, as I explained in a previous post recently. That means:
-A realistic and simple track plan offering operation potential consistent with my own interest (small local trains).
-Small square footage to fit my office room at home (80" x 18") and that can be moved in my workshop or outdoor when I need to do messy stuff.
-A scene that can be built by phase and rebuilt at wish
-The use of readily available component (already built module, available track & buildings)
-Locate the layout in my living space to be sure it will be fun to work on it in optimal conditions and not in my damp and cold basement, nor my uncomfortable workshop.
The result was a spartan track plan, just like the real thing. I wanted to model a end of line station, as Trevor Marshall's Port Rowan layout. Why? I once tried the inglenook, very interesting concept but I felt there lacked a sense of destination. With a terminal, you train comes from staging, do its chores, and then disappears from where it came.
Imagine a small branchline, it's the end of steel there. There's a small runaround siding to reverse train and do some switching moves. From the main line, a siding serves the feedmill. Finally, the track beyond the runaround continue a few hundred feets untiil it disappear into a forest area. Beyond that point, the main line had been pull out and the remaining track is now used as a team track for local customers, including a sawmill.
Two turnouts are on the layout, the third one on a removable cassette, meaning only half the runaround is properly modelled. In the future, it could be possible to extend the layout to model completely the runaround and the station. I can also extend the mainline beyond the team track to effectively model the sawmill operation. No new turnouts would be needed. IF I had more place, I wouldn't even bother adding more track and I would probably just add a few feets of mainline between a staging area and the station. In that respect, I'm following a method of building layout directly inspired by works of talented UK-based modellers Chris Nevard who never ceased to impress me everything I see his amazing work.
As for the locale, I found out St. Pamphile, QC, in Bellechasse county was extremely similar to the fictious location I created. Better, it was supposed to be a terminus on Quebec Central's Chaudière Sub during the 1910s, however, the last remaining 25 miles were never built because of WWI, which means I can absolutely proto-freelance the remaining miles according to my own ideas.
The layout will be set in a mid-1980s setting, with first generation diesel (Alco-MLW and EMD) working the line. In fact, the scene is quite generic and could accommodate almost anything, which is good to make nice photo shots of my locomotive collection. Anyway, I'm not a bif Canadian Pacific fan, but I do have a soft spot for CP Rail and Multimark, probably a remnant from my first trainset.
And so far, so good. During the weekend, I managed to install my NCE Power Cab DCC throttle, add some ondulations to the styrofoam baseboard and paint the module.
Yesterday, I prepared the flex track by removing a few ties (1 out of 6) and randomly spacing the remaining ties to get a more realistic branchline look.Tonight, it took me about 2 hours to lay and glue the tracks and drill holes for electric feeders. Honestly, I like how task can be done almost one shot in a ver short span of time. It remembers me what my golf teacher in CEGEP (College) told us: "always complete a session with a winning move to feel you are moving toward your goal". I always thought he was quite right...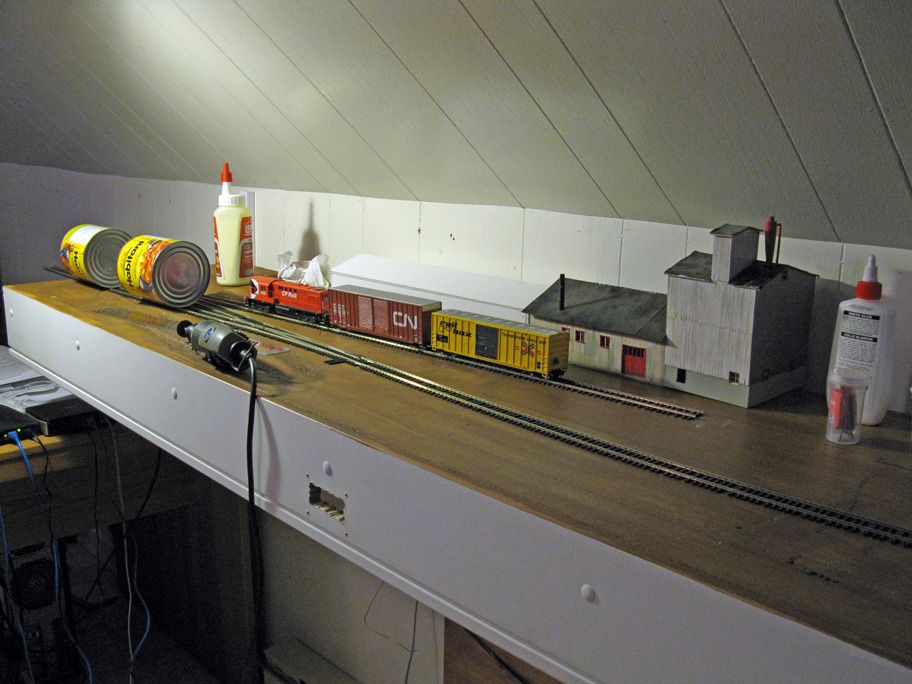 Track is laid. I'll solder the feeders tomorrow.