Never underestimate a simple layout track plan. In about 3 days of little work on the layout, it is fully operational. I built the cassette and laid track in about 3 hours this morning. After lunch, I was able to test the track and operate a first diminutive freight train (I lack cars, most are on the club layout).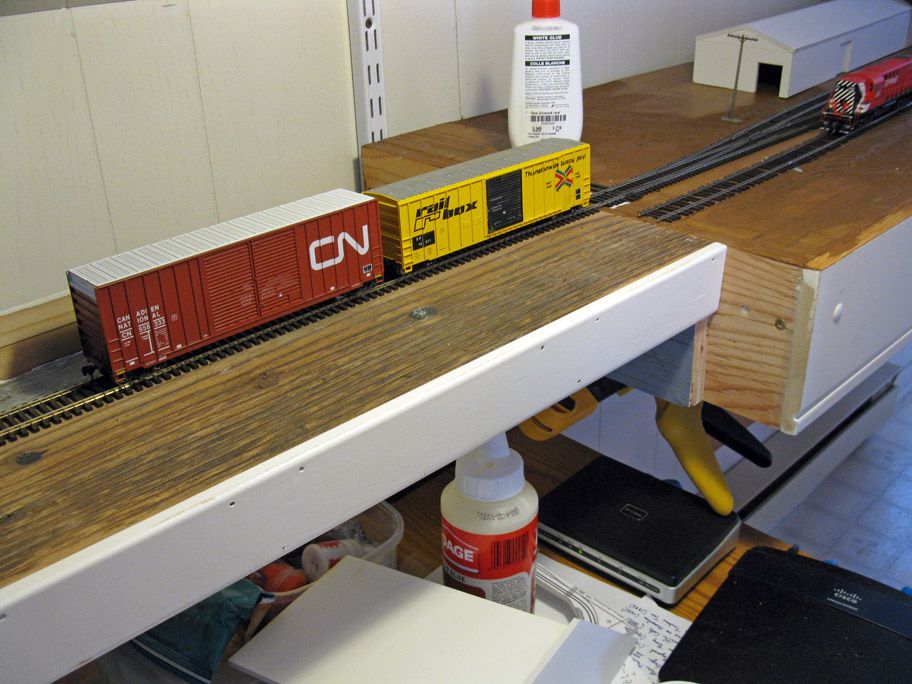 Laying track on the cassette.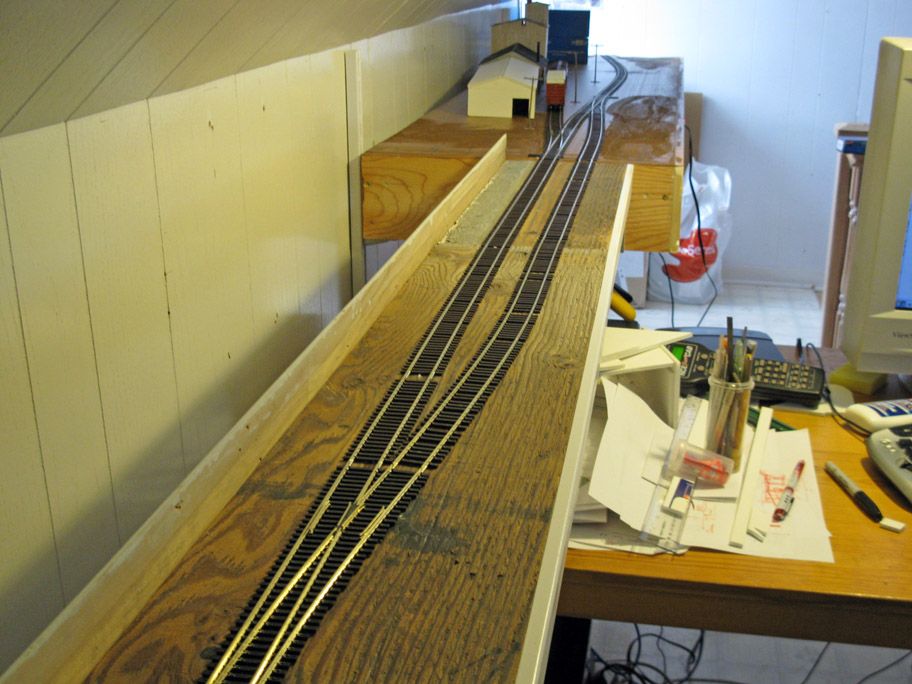 Completed cassette with fully laid track.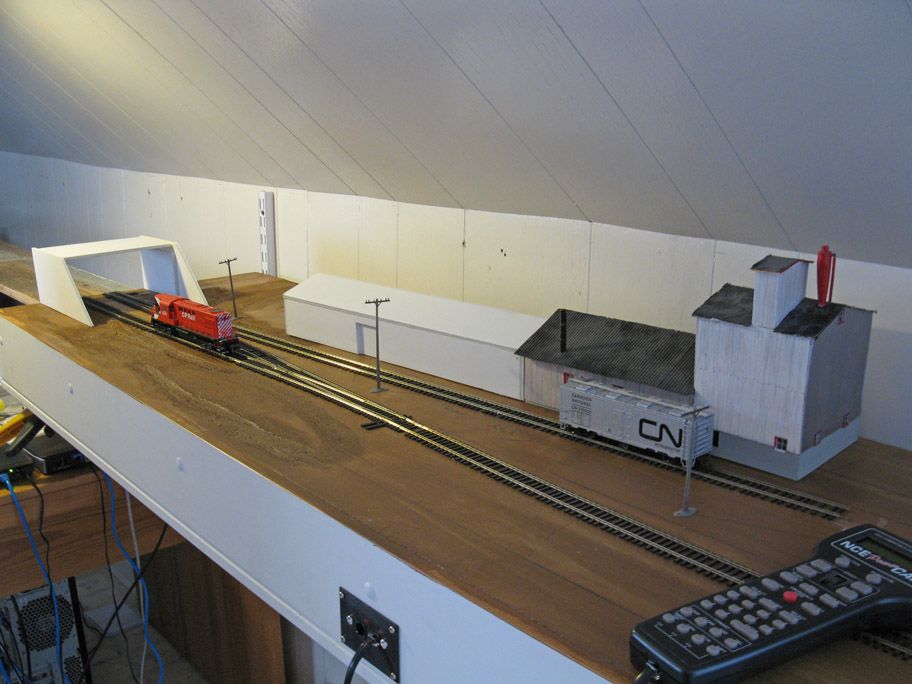 To be realistic, the overpass should be at least one feet farther from the feed mill.
Yesterday, I built a mock up of the road overpass right to the feed mill. The idea was to have a scenic block... Good on drawing, but looked wrong in real. In fact, the overpass overhelm totally the scene and is unrealistically near the feed mill. Thus, I decided to get rid of it. Anyway, St. Pamphile is a remote community near Maine's border. There's no important road there that would justify building a large concrete overpass over a decaying railway line. So less scenery work for me! And seriously, that makes the scene looks larger and I'll probably build the second module one day. Also, having a turnout under an underpass is a real pain. Better have all of them in plain sight.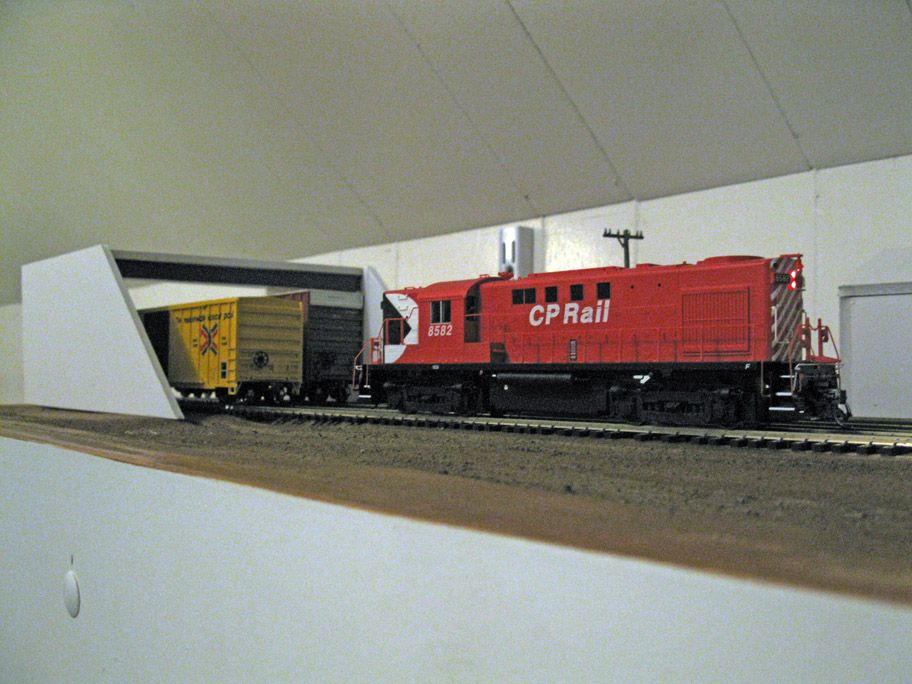 After operating the layout, I was convinced again the low track density was right. Including the cassette, that means about 160 inches of straight mainline, more than the club layout can ever hold. Better, switching this small shelf layout means your locomotive have to travel every inches of the layout. The only down side was the lack of sound on Jérôme's CP Rail RS10. It's time I bring back my RS3 at home, after all, I bought and weathered it for personal use on my home switching layout. I'll also get back my TLT Canadian Pacific and CP Rail wood cabooses. I'm seriously thinking about getting myself a Rapido Angus CP Rail caboose (and getting rid of the ludicrous interior lighting, what an unrealistic gimmick, it ruins the model).
By the way, I tried to use my TLT 8-hatch CN reefer... What a junker. Wheels don't roll freely in the trucks. This car will need a massive rebuilding program to run smoothly on the layout. Honestly, at the price these things are sold, you expect they can at least run. Last time I bought a unusable RTR car was circa 1990 when I bought a CP Rail 50ft boxcar manufactured by Model Power. Many comments over Internet indicate my sample is far to be an obscure case of bad quality check. TLT should be more serious, they got great cars, well-detailed and prototypical, but messing up the basic isn't gonna improved their faltering reputation. I hope the Pointe-Saint-Charles caboose won't end as badly as this reefer. That would be the icing on the cake.